Tuesday Nov 12, 2019
Why Marketers are the Builders of Wealth – Matt Heinz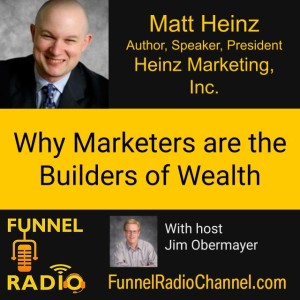 "A lot of companies don't think of marketing as builders of wealth," says Matt Heinz.  "Marketing done the right way can generate not just sales, not just revenue impact, but significant profit for the organization."
In this fast-paced interview, Matt discusses how marketing acquires the mentality of being a profit center for the company.  He touches on how marketing must foster a culture of revenue responsibility.  He covers:
Why the leverage marketing has is enormous
Why marketing spends too much time on tactical measurement, not enough time thinking about revenue responsibility
Technology is not your strategy, technology is an enabler of your strategy
How marketing creates value across the entire funnel not just the top of the funnel
The biggest obstacle for most companies to embrace revenue marketing is external, not internal
Most marketers think of marketing as the marketing of more: more clicks, more leads, more likes more impressions, and more may not be better
About Matt Heinz
A prolific author and nationally recognized, award-winning blogger, Matt Heinz is President and Founder of Heinz Marketing with 20 years of marketing, business development and sales experience from a variety of organizations and industries. He is a dynamic speaker, memorable not only for his keen insight and humor but his actionable and motivating takeaways.  Matt's career focuses on consistently delivering measurable results with greater sales, revenue growth, product success, and customer loyalty. Matt is a repeat winner of Top 50 Most Influential People in Sales Lead Management and Top 50 Sales & Marketing Influencers.  Matt restored his 105-year-old historic farmhouse in Kirkland, Washington with his wife, Beth and shares it with three young children, a dog, two rabbits, and seven chickens
Matt is the host of Sales Pipeline Radio
About Heinz Marketing
PIPELINE STRATEGY + MARKETING EXECUTION
Grow your B2B business. Increase your pipeline. Reach more of your customers.
Heinz Marketing is a B2B marketing and sales acceleration firm that delivers measurable revenue results. Every strategy, tactic, and action has a specific, measured purpose. Most firms focus on their activities. We promote the outcomes.
We are sales pipeline strategy people at heart – math marketers and sales strategists who embrace revenue responsibility. We know that what really matters is sales pipeline, closing business and accelerating revenue. Period.
Our proven methodology delivers real B2B results based on buyer insights, market-driven best practices, and rapid feedback loop to improve and sustain the results you see.
 DEMAND GENERATION
 PIPELINE MANAGEMENT
 SALES ENABLEMENT
 CONTENT STRATEGY
 INSIDE SALES EFFECTIVENESS
 MARKETING TECHNOLOGY
 Heinz Marketing Inc  8201 164th Ave NE #200Redmond, WA98052   877-291-0006