Tuesday Oct 19, 2021
Programmatic Media Buying Has Changed Everything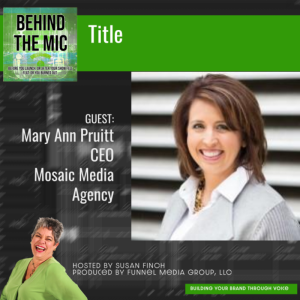 We are regularly asked at Funnel Media Group how to jump-start a show's reach into new markets, and reach new audiences. This episode covers advertising, sponsors, and the change in best practices over the past two years. Consumer behaviors have changed - how they consume media. This is where our guest, Mary Ann Pruitt shines through her agency, Mosaic Media Agency. You will want to consider all of her insights and advice, as well as some great suggestions you can get started with today.
Who are we targeting?
How are we targeting?
What about the third-party cookie thing?
First-party data is available to you - you just don't realize it. It's time to invest in collecting your own first-party data.
Listen to this episode: Programmatic media buying has changed everything.
About Mary Ann Pruitt
Mary Ann Pruitt is the CEO and President of Mosaic Media, a collection of media buying experts and creative strategists who negotiate, purchase, and monitor advertising space and airtime. Mary Ann started her career in media by working as a senior sales executive for some of the nation's largest media outlets. After discovering her talent and love for all things media strategy, she founded Mosaic as a way to provide niche expert experience to agencies and marketing departments across the country.
Her hard work and savvy strategy skills have led Mosaic to year-over-year growth and has expanded her impact as an industry leader in all things traditional, digital, and everything in between. Reflecting this is a 2020 award from Cynopsis Media naming her as a Top Woman in Media.
Mary Ann has helped develop effective marketing strategies for agencies of all sizes, small businesses, service businesses, private educational institutions, and legal and professional services businesses along with many others. She is passionate about passing on the experience that she has gained to eager professionals looking for actionable marketing tips.